Description
NLINE-T1553 | In-Line MIL-STD-1553 Thunderbolt Converter
Thunderbolt 3 Interface with 1-2 Dual Redundant, Independent MIL-STD-1553 Busses (channels) Built in the Cable (NLINE)


S

ame Full Features as PCIe Interface Cards, Including Hardware Interrupts!

Signal Capture on First 1553 Channel – Troubleshoot Cables – Analyzer for Cyber Threats

Windows and x86 Linux Support

Quick-Disconnect Lemo Connector – Optional 1553 Cable Assemblies with/without AUX

Custom 38999 Assemblies Available – Ideal for Lab or Deployed Applications

IRIG-B RX Decode. RX MIL-STD-1760 RT Addressing

USB C Thunderbolt 3 (1xPCIe) 7 Watt Max – Normal for Thunderbolt 3

Parts Temp (C): -55 to +120 Storage, 0 to +55 Commercial Operating


Transmit Inhibit Optional – Flash Disable Secure Mem Optional
Hardware Datasheet:
Bus Analyzer Datasheet:
Software API Datasheet:
Additional Information:
Full Featured and Native 1553 Thunderbolt interface built in the cable! Full PCI Express interface – same advanced interface as PCIe backplane cards in a small, portable, rugged appliance.
Thunderbolt 3 Technology Review
Thunderbolt 3 FAQs
Supports Full Real-Time Control the Same as a PCI Express Card in a Server! Much Better than non-real-time USB.
Full Hardware Interrupt Handler Support! AltaAPI SDK Provides Easy Integration – Use the exact same code as other Alta PCIe devices! Windows 10 Support Only
Perfect for replacing PCMCIA, ExpressCards or USB-based Devices. Can be added to servers or desktops systems as a substitute for interface cards.
2 Meter J2 USB-C Cable Provided. J1 1553 Cables are Optional. See Part Numbers Tab for cable, memory protect, transmit inhibit, direct coupling, and AltaView analyzer options.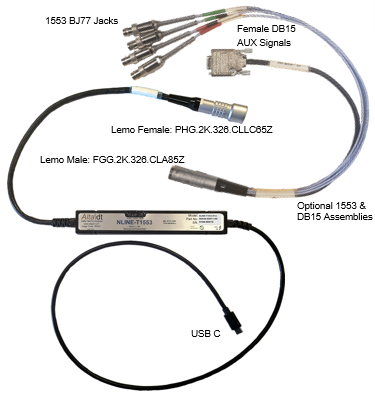 Link to Supplier Page:
https://www.altadt.com/product/nline-t1553-thunderbolt-appliance/